This is the 25th edition of The Champion's Brew, a weekly assembly of material I am reading, listening to, or watching that is designed to equip and call you to uncommon leadership. I often add my own little spin based on my takeaways and would love your input as well. Any of the points especially impact you? Drop me a note at [email protected], or comment on the blog to keep the conversation going! I believe you will discover that the format is not only useful, but also that you can consume it within the time it takes you to enjoy your daily 'brew'! Become a member of the Champions Brew Nation by subscribing here!!
Here is your weekly drink of what I have been reading and experimenting with to help me to:
Wory Less: So, do you have a mentor(or two or three) in your life? I believe mentors are instrumental in our leadership development. Webster defines a mentor as "an experienced and trusted adviser". AND, I believe they are so much more. Great/Uncommon mentors speak truth into your life. They help you to see blind spots. They hold you accountable. They call "B.S." when they see it. I am glad to have many mentors who have helped me in different areas of my life… Work, Faith, Finances, Fitness/Health, etc. You probably already know that John Maxwell has been a mentor to me over the years. And, he describes 3 different types of mentors. Here are my takeaways about these three types of mentors:

Those who Know me AND Know they made a difference – These are the ones who you invest and spend time growing with and learning from. You have regular contact with them that is always fruitful. Cherish these mentorships. Let them know how much of a difference they make for you!

Those who Know me AND Don't Know they made a difference – This one may be the toughest to 'spot', but there are certainly people in your life that you may seek out for guidance and wisdom, even indirectly. This could be a friend who models integrity in their marriage, or a co-worker who finds a way to be successful at work AND life. If you reflect for a few minutes, I bet you could come up with a few…

Those who Don't Know me AND still made a difference – Sounds a bit odd, but speakers, bloggers, writers, musicians, etc, can also be mentors in your life. I hope that this newsletter can make a difference for you even if I don't know you!

Work Hard: A recent article in Success magazine online outlined "10 'Harmless' Habits to Drop if You Want to be Successful". This is a pretty good list of bad habits that, if you stop doing, could allow you to utilize your time more effectively and spend more of your time on the right stuff:

Saying Yes when you want to say No

Hanging onto people who don't want to grow

Striving for perfection (I am not crazy about the 'title' of this one, but the intent in the article is correct. It may be better titled 'waiting for perfection'. If we wait until the time is perfect, we may never do anything)

Not protecting your recharge time

Immediately answering PMs and emails

Not prioritizing your day
Guilty as charged for me in many of these areas. The one I probably struggle with the most (and how my mentors have helped me!) is saying Yes when I want to say No. What about you? Which area do you struggle the most?
Quote help you grow: "You are the average of the five people you hang around with the most" – Jim Rohn
Thing about those mentors you identified above. Make sure you are investing time with those mentors so that you can 'raise the average' of the people who impact your life.
What you need to do:
Call to Action: So, do you have a formal mentor/coach in your life? Do you think you would develop faster if you did? First time I have done this, but I am offering 2 free coaching sessions (30 minutes) to the first person who responds to [email protected] that they need a coach in an area of their life. Just put "BE MY MENTOR" in the subject line!
I hope you enjoyed this week's edition of Champions Brew. If you enjoyed it, I would appreciate it if you would share it with a friend who might enjoy it as well and ask them to subscribe! I will make sure they automatically get this email every week.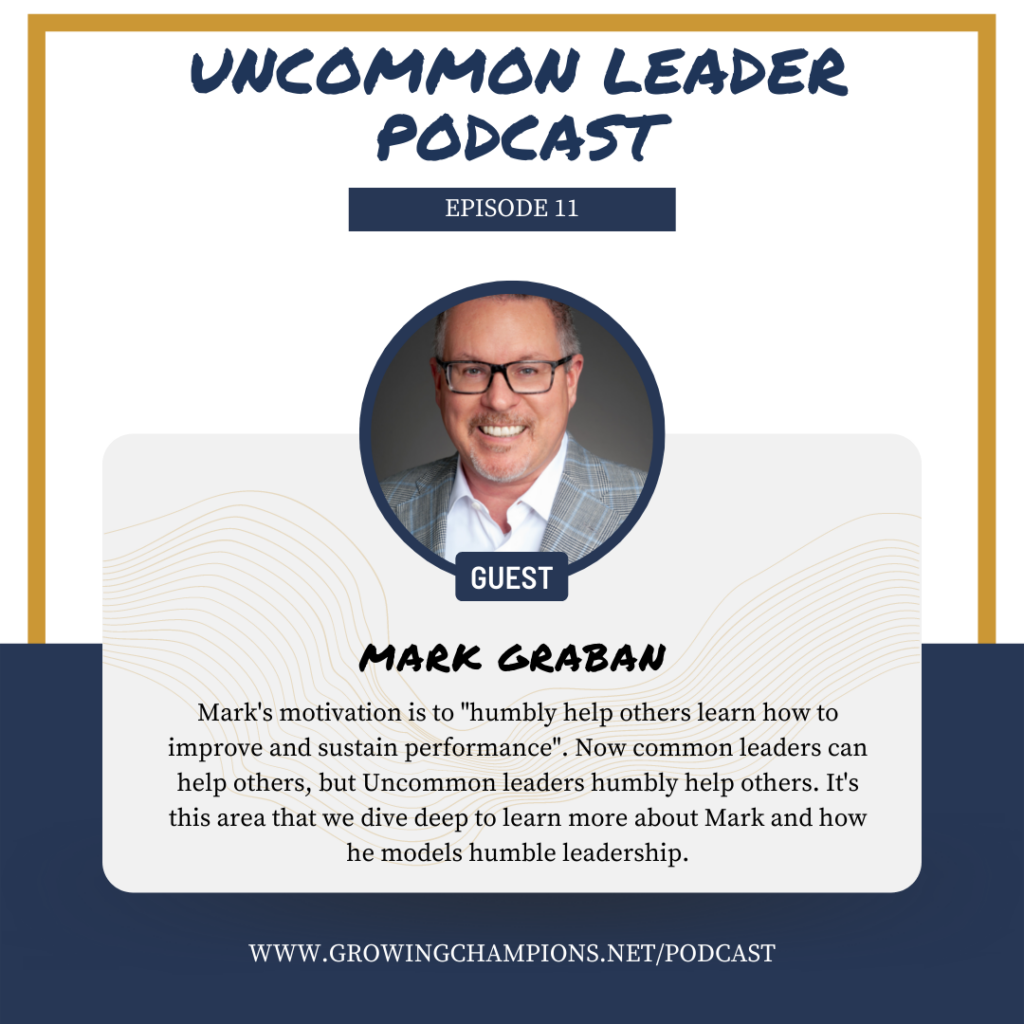 Also, the Uncommon Leader podcast is growing! Click HERE for a list of the episodes of interviews I have done with Uncommon leaders. It has been enjoyable for me and I know the guests will add value to you as well !
Until next time, go and Grow Champions!