Wow. Where has 2021 gone?! Just a couple more Champions Brew left in the year. I am happy to have shared a piece of this year with you on your leadership development journey.
The Champion's Brew is a weekly assembly of material I am reading, listening to, or watching that I have found intriguing and may help to equip and call you to uncommon leadership. I often add my own little spin based on my takeaways and would love your input as well. Any of the points especially impact you? Drop me a note at [email protected], or comment on the blog to keep the conversation going! I believe you will discover that the format is not only useful, but also that you can consume it within the time it takes you to enjoy your daily 'brew'! Become a member of the Champions Brew Nation by subscribing here!!
Here is your weekly drink of what I have been reading and experimenting with to help me tp
Read More: I recently completed Legacy – What the All Blacks Can Teach Us About the Business of Life. For those of you who are not rugby fans, the All Blacks are a team from New Zealand and are one of the most successful rugby teams in history. They have been called "the most successful sports team, in any code, ever". In the professional era, they have an extraordinary win rate of over 86 percent!!!
Another way that you may know them is that when an opposing team lines up against the All Blacks, they have to face the 'haka', the highly ritualized challenge throw down by one group of warriors to another. This clip shows the All Blacks and their 'haka' prior to a match in the World Cup Final against the French. Now, the book isn't about the dance, but rather about the culture of the All Blacks… a culture that allows them to be as successful as they are on a consistent basis and how this culture translates to an organization's mindset. Here are a few of the top items I highlighted or dog-eared:
On Humility – Never be too big to do the small things that need to be done.
On Continuous Improvement – The challenge is to always improve, to always get better, even when you are the best. ESPECIALLY when you are the best!
On Legacy – Everybody's role on the team is to 'leave the jersey in a better place'. An old Greek proverb tells us, "A society grows great when old men plant trees that whose shade they will never see."
On Character – Mana, a Polynesian word, that describes a person of rare quality; a natural leader possessing strength, leadership, great personal power, gentleness, and humility.
Better people make better All Blacks – Said differently, Better people make Better, Uncommon leaders. By developing the individual players and giving them the tools, skills, and character they needed to contribute beyond the rugby field (workplace, gemba!), they would also, in theory, develop the tools, skills and character to contribute more effectively in it.
On Excellence – Excellence is a process of evolution, of cumulative learning and incremental improvement. Each player had a daily map of self-improvement (Leader Standard Work) that enabled them to perform better.
On visualization – "Visualize to actualize" – The story we tell about our lives becomes the story of our life. The narrative we tell our team, brand, business, organization or family because the story others eventually tell about us.
On Authenticity – The alignment of head, mouth, heard and feet – thinking saying and doing the same thing consistently.
On Rituals – Inspiring leaders establish rituals to connect their team to its core narrative, using them to reflect, remind, reinforce, and reignite their collective identify and purpose. Rituals can be organizational, societal, or personal. For example, after Neil Armstrong was the first man to walk on the moon, each time he glanced up at the night sky he winked at it!
On Values – Companies that maintain and live their core values are those that stand alone, stand apart and stand FOR something.
One of the words a reviewer used to describe this book was "Unputdownable." My sense is that it was a really good book. I really enjoyed how the author got behind the scenes with the All Blacks to learn some of their secret sauce, and then connected their story to how I, as a growing leader, could deploy some of those same techniques in my role. This is a book that I would highly recommend and have gifted. Legacy by James Kerr.
Work Hard: Tracking your daily and weekly disciplines is an important discipline in itself. To say you are going to exercise three times a week is one thing. To actually track and measure your ability to achieve that weekly changes the game. What you measure, you expect…what you don't measure, you accept. Another quote I have heard: What gets measured gets done. It can be difficult to track all of these manually. One app I have begun using over the past year is Strides. I use the free version. I like the simplicity of the interface, the reminders that can be set,and the history. There is a little bit of gaming as it 'recognizes' you for certain streaks. My longest streak I am working on this year is Reading the Bible… as of writing this newsletter, I have completed 343 days in a row on my way to 365!!! Other things that I track are nutrition, exercise, breathing, and writing. If you want a simple way to track your habits, Strides may be the app for you!
Quote: "Better people make better leaders." Daniel Harkavy, CEO, Building Champions
What you need to do:
Call to Action: Do you track your daily habits in some way? "What you measure you control. What you don't measure you accept." How do you need to get better at measuring your performance in 2022? Maybe you need a coach to help you with that!! I would love to hear from you abut ways you track them. You can email me at [email protected]
I hope you enjoyed this week's edition of Champions Brew. If you enjoyed it, I would appreciate it if you would share it with a friend who might enjoy it as well and ask them to subscribe! I will make sure they automatically get this email every week.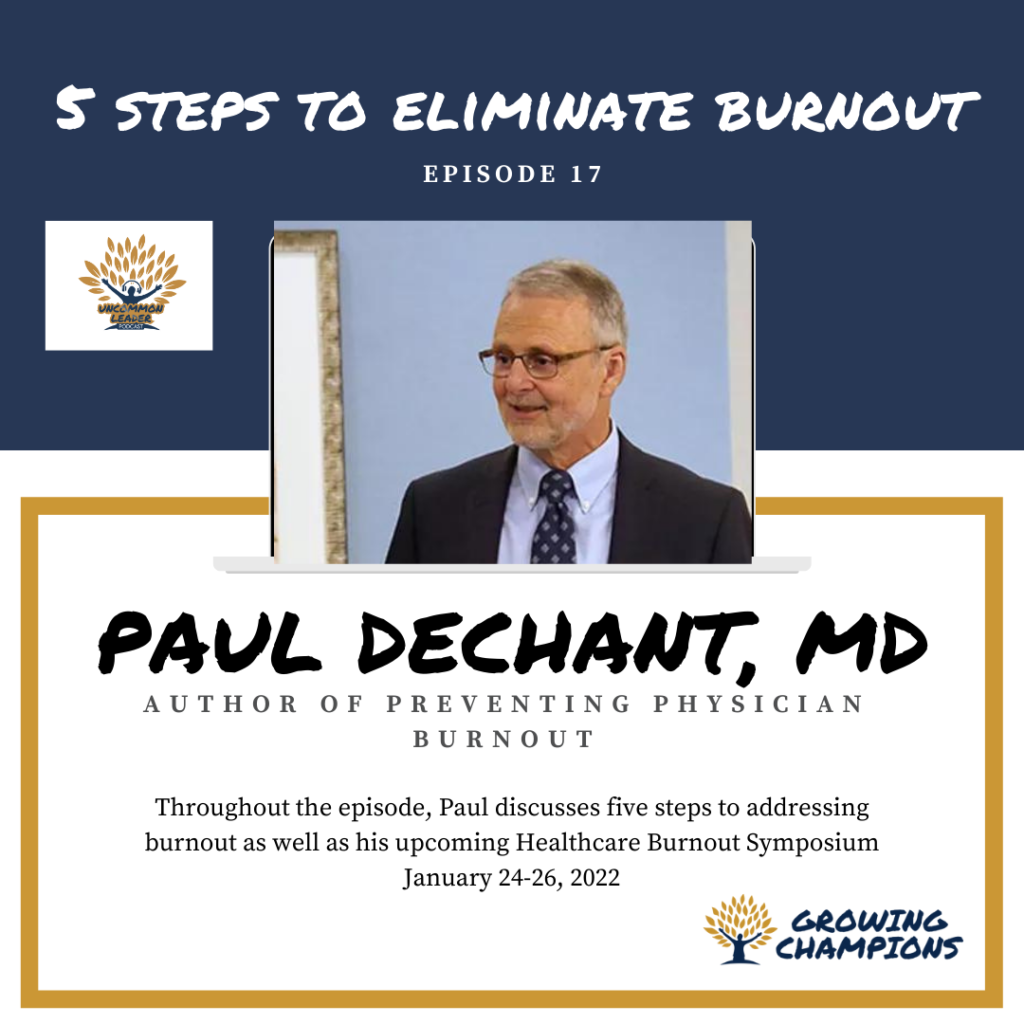 Also, the Uncommon Leader podcast is growing! Click HERE for a list of the episodes of interviews I have done with Uncommon leaders. It has been enjoyable for me, and I know the guests will add value to you as well!
Until next time, go and Grow Champions!